When you climb with

us
Our climbing wall with its area is the largest wall in Slovakia. From the official opening – 07. 02. 2013 we have added numbers of climbing profiles. We offer climbing for climbers who prefer quality and difficult lines, but also for beginners. 
During the first visit we take you through an introductory climbing course, which is necessary for getting to know the climbing itself, with climbing equipment and safety on the wall.
The quality of climbing routes and lines are constantly taken care of by our staff. Roads are varied regularly, so a great variability of climbing is always available to you. Each route is marked with a solid colour, a name and a degree of difficulty.
The wall is dominated by an enourmous overhang that troubles even the most experienced climbersand is surrounded by vertical and slightly overhung profiles. From the back of the overhang is "leaning against" recreational placed profile. There´s a "rectangular" line or an imitation of natural rock made from laminate that has an interesting shape.
There are less dificult climbing lines, especially by their length above the bouldering wall. Several lines are made for top-rope style of climbing, which is perfect for beginners. Climbing with ice axes, called drytooling, is also present, it is situated in the front part of the wall above bouldering wall.
One climbing profile is equipped with auto-belay device. You can climb more climbing routes with one auto-belay and you don´t need a climbing mate who would belay.
K2 climbing wall is the only indoor wall in Slovakia that has a speedclimbing profile. Each speedclimbing profile must meet the same specifications – gradient and length. Speedclimbing holds have specific shape. During competitions, holds must be placed on an exact position.
We also have perfect bouldering wall with color-marked boulders. There is a sufficient number of holds installed, so you can traverse the wall or you can create boulders on your own.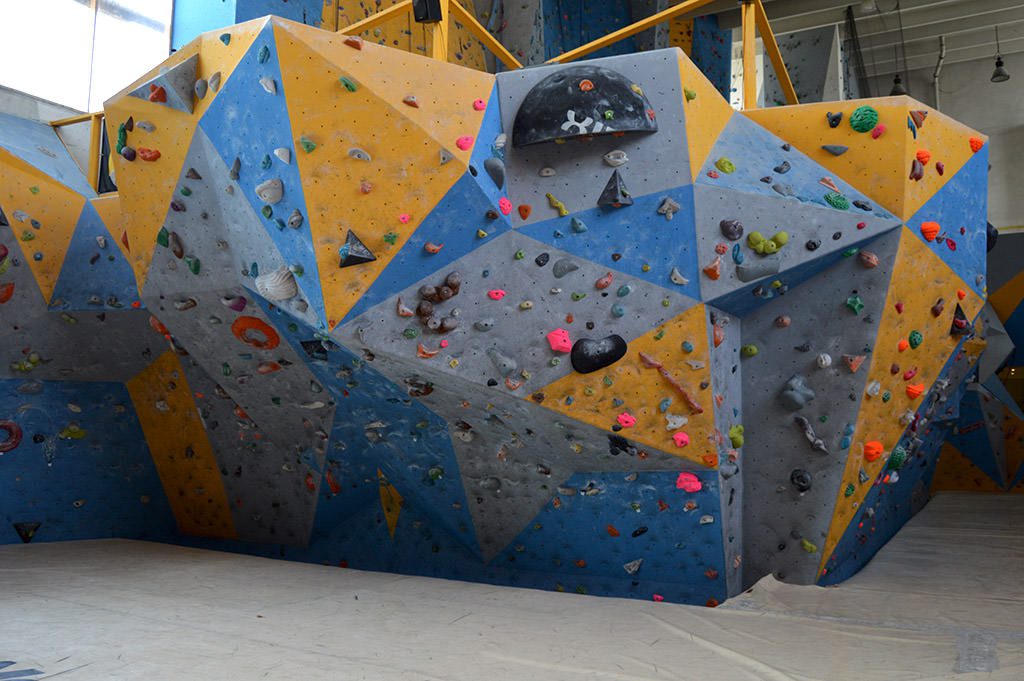 Parameters
| | |
| --- | --- |
| Total area | 2 000m2 |
| Area – Bouldering | 200m2 |
| Drytooling | 104m2 |
| Outdoor wall | 95m2 |
| Maximun height | 15,5m |
| Height of upper indoor wall | 10m |
| Height of laminated profile | 10m |
Training
supplies
Surely everyone remembers what the very first meeting with climbing feels like. Pain from small climbing shoes. Suddenly you feel pain in muscles you had no idea about. Whith sufficient warm-up and additional exercises you can avoid at least the pain in muscles. For exercising we have prepared a training campus, trapeze, TRX, fit ball and other accessories. For balance exercise we have installed still more popular slackline.
Competitions
As well as in many sports, in climbing you can also measure and compare strength and climbing skills with others. Our climbing centre has perfect organizational capacity for competitions or any other events.
Soon after the opening of the climbing wall, we held Slovak Championship in bouldering. There was no small participation of contestants who enjoyed the competition. Shortly after that we offered our place to Czech speedclimbers. They held a nomination race for Czech strong representation.
Every year we hold Slovak Championship in climbing in young childern and youth difficulty, which is also attended by a great number of foreign cimbers. We also held Slovak Championship in drytooling.
We do not forget special dates and anniversaries. During special days it´s more about fun than competition. We celebrate our our annually anniversaries with climbing marathon.