Our climbing wall and its space are perfectly suitable for indoor teambuilding. We offer many interesting games and disciplines that strengthen team spirit and relationships not only in the workplace. Through disciplines you learn to trust not only to each other, but mainly to yourself.
Part of the climbing wall is a cafe-bar where you can install the catering service. Cafe-bar is also suitable for watching films or company presentations and parties.
For the youngest ones there is a children's corner.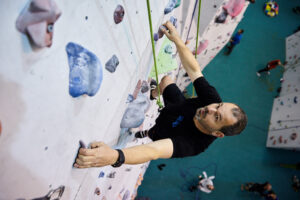 Educational

Path
Participants will be divided into teams. They are given a list of questions. Questions may focus on any subject (for example on a type of business of the company). The goal is to collect as many clues as possible. Clues will help to answer questions and will be hidden at the end of climbing routes. Team with the most correct answers is winning.
Price includes:

2x Climbing Instructors/ Belayers
Example of price calculation
45 visitors (no exclusivity) – (45 x 15€)
Disciplines


Blind climbing – 1h (30€/ hour)
8m shuttle jump – 1h (30€/ hour)
Tower from crates – 1h (30€/ instalation+ 15€/ hour)

= 45 x 15€ + 30€ + 30€ + 60€ = 795€
Example of price calculation
50 visitors = (50 x 15€) 550 € fee
+

charge

 

for exclusivity

1 250 € = 1 800 €
Our menu offers wide choise of warm drink, soft or alcohol drinks, beer, but also fast food like hotdogs, toasts and others. If required, we can prepare other snack buffe or whole catering.