Second round of volume!
Drilling, drilling and more driling! The second round of volume trainings is ready. New routes, new exercises and new climbing bonuses. Last month there was a prove that everything is possible to climb. And only bonuses decided who was the winner.
Prices for the most gained points will be awarded to the first five of each category. Climbers who were placed in the category "Relax" in third place will automatically collect points and above "climber".
Prices for October – Bar ticket
place: 20€
place: 16€
place: 12€
place: 8€
place: 4€
General rules of climbing league
Throughout the month you will climb 30 selected routes + bonus routes that are different for each category. This time we open two categories. Category Climber is for those who are dedicated to climbing a longer period of time and for those who in previous round who placed in 5th place. Category RELAX is called for recreational climbers and beginners. For each climbing route is certain points. The number of attempts on the way is irrelevant. Top five climbers in each categoriy will be rewarded.
You must climb each climbing route top-rope, if not otherwise permitted. You will receive a list of league climbing route from receptionist. You will write routes that you have climbed. However, it must be signed by the witness of your achievement. You can collect points by the end of September.
Climbing league is one big motivation for each climber. Results will be available throughout the month. We look forward to you and your performance!
List of climbing routes and bonuses
When collecting point for Bonuses you must climb exactly according to instructions.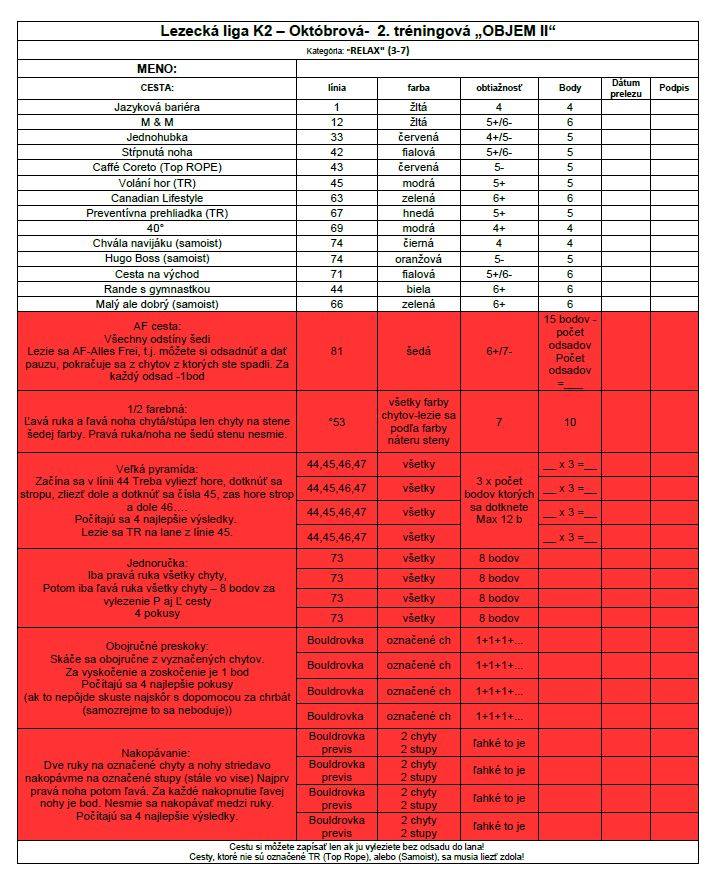 Resultes – Online Spreadsheet